Date/Time
Date(s) - Saturday, October 12, 2019
9:00 am - 12:00 pm
Location
Ashland Pond
Categories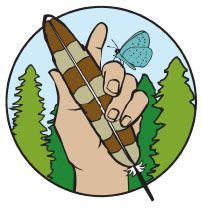 Fall in the Field is an environmental education program proudly offered by graduate students in the M.S. in Environmental Education program at Southern Oregon University.
Discover the wonderful local diversity at Ashland Pond with your family. Passionate environmental education graduate students will lead families on a fun day exploration around Ashland Pond.
Program is recommended for adults and parents with children ages 6-12.
Location: Ashland Pond
Program Dates and topics:
Saturday, October 5 – All About Birds!
Saturday, October 12 – Pondiversity
Saturday, October 19 – Water is Life!
Program Cost: $4/person
Register online at Ashland Parks and Rec! https://apm.activecommunities.com/ashlandparks/Home
For more information: fallinthefield@sou.edu, 541-552-6876, or https://fallinthefield.sou.edu